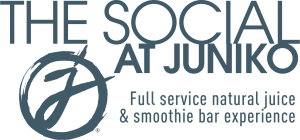 At The Social, we wanted to create the ultimate experience to cleanse your mind and body using earth's most refreshing ingredients. Featuring protein packed smoothies, freshly prepared juices and handcrafted artisan wraps, bowls and salads, The Social is the South Shore's sanctuary for healthy living. Our fully equipped WIFI facility offers special corporate catering packages guaranteed to energize your team's next group lunch, event or meeting. Book your next big Event or Occasion here. Discover today how The Social at Juniko® can jumpstart your day.
Order Ahead
Hanover: 781.924.1257
Hyannis: 508.827.7814
---
In this behind the scenes video, our Executive Chef Gamah Toney takes a moment to discuss the culinary passion that goes into creating The Social experience.
Download Menu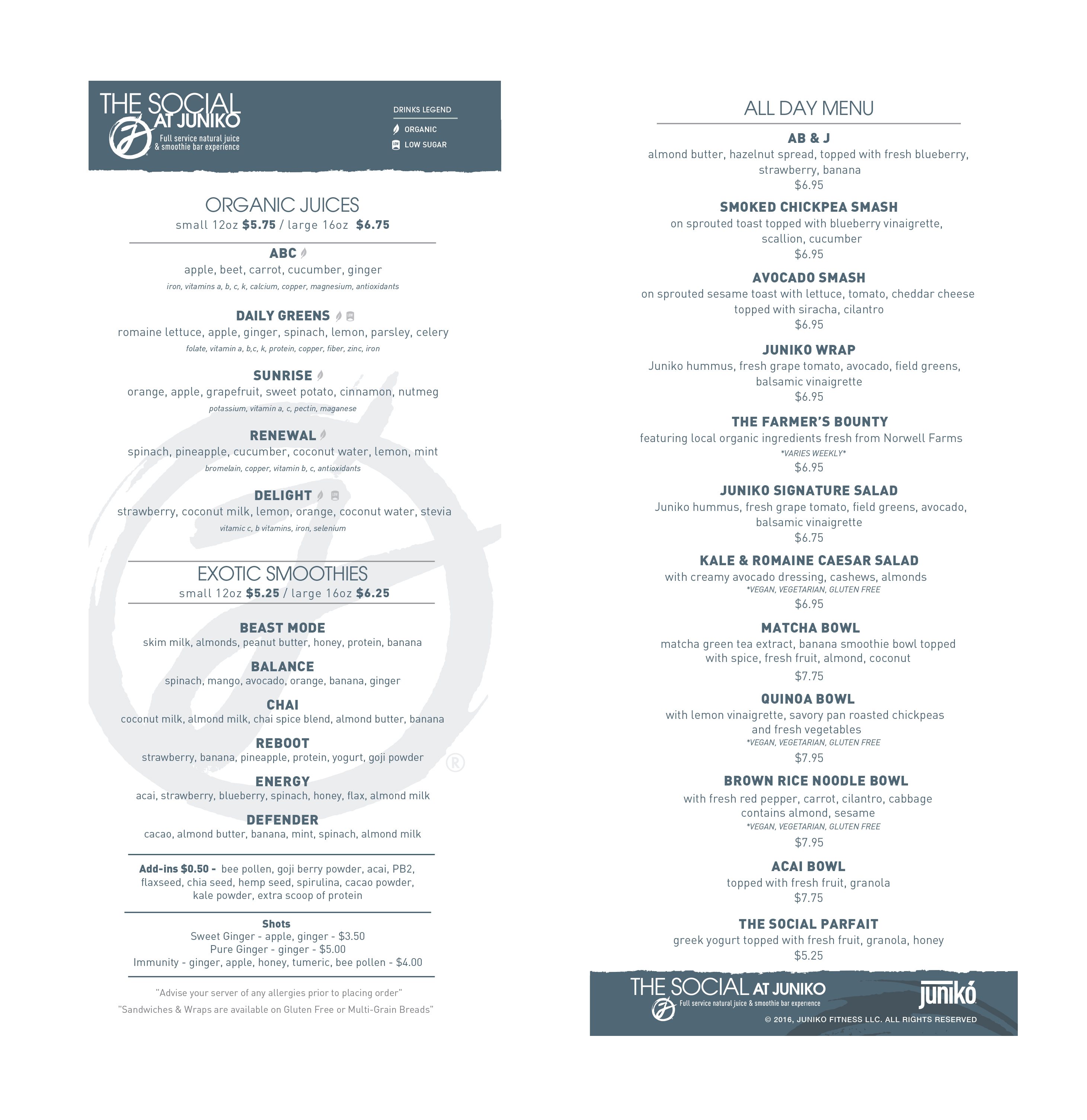 ---
Gamah Toney, Executive Chef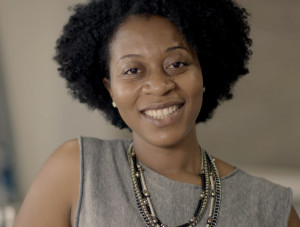 Having built two successful careers as both a fashion designer and founder of Beauty Food Products, an all natural line of skin and hair care products, Gamah Toney's life as a creative soul has always been an exciting one. The position of Executive Chef of the Social, much like her other roles is driven by an impulse to create wonderful products by hand that are natural, healthy, and aesthetically pleasing. As a licensed esthetician, and the lead product developer for Beauty Food, Toney understands that "you are what you eat" and everything that goes into the body has a direct impact on the tissues, cells and muscles that make up the bodies largest organ, the skin. Yet, as a chef and mother of three she also keenly understands that if the food doesn't look and taste great, it isn't going to make it off the plate. So armed with this dual knowledge, and years of working in her own test kitchen, she set about revamping The Social's menu. She focused on putting foods harvested in season together, and preparing them to be eaten raw or mildly cooked so as to retain their optimum nutrient levels. She then infused them with an enviable amount of natural flavor, to appeal to even the pickiest of pallets and created dishes that can be produced in small batches, and largely made to order to ensure they are served at their peak of freshness. All these practices were then enhanced by finishes that might be considered odd if they didn't taste so extraordinary, like a smoky chickpea smash topped with the Social's house made blueberry vinaigrette. So while the foray from pampering the body to peppering the pallet may appear seamless, particularly for a self-taught culinarian who pursued a dual major in fashion design and Business Management in college, and then worked for years in both the clothing design and natural products industries. For Toney, the merger is much like the combinations in many of the menu items she creates, it just works. The successful ingredient in this combination may be Toney herself, because food has always been at the heart of who she is. Gamah grew up in a very culinary family, and in fact received all her hands-on training over the course of the last 25 years while working under her mother who is a caterer, master baker and food entrepreneur. Until age ten, she grew up in her family's native country of Liberia, where she spent countless hours in her mother's bakery kneading dough or helping her father raise "backyard chickens" before it became fashionable. The knowledge that was passed down at their urban dinner table included her father's skill in rice cultivation or her mother's recommendation for using just about everything that grew outside their front door as an "organic" and sustainable way to eat. As the family transitioned to the U.S., stories of farm to table eating, and the health benefits of foods native to Gamah like palm and coconut oils, wild greens and fruit enzymes not only made their way into her home kitchen, but also into every new menu item she creates. As a chef and mom Gamah Toney knows it is important to marry taste with nutrition. She is also aware that while everyone will not be able to have a completely farm-to-table dining experience on the go, it is possible for anyone to forage a few good ingredients, infuse them with local flavors and make a light bite that everyone can enjoy.